More About Me . . .
From the very beginning of my career, I've been editing documents of one type or another. At times, it's been highly technical material, where precision of expression is crucial. At other times, it's been web content or promotional pieces, where stimulating the reader's imagination is paramount. Still other times, it's been presentation materials  —  and what is a pr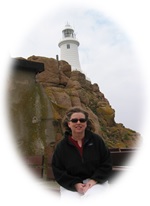 esentation but oral storytelling with visual aids? I've also been a writer and content creator in all of these areas, so I have a real appreciation for the value of another pair of eyes on the material.
Most recently, I've turned my hand to fiction with a multi-volume series set at the beginning of the Renaissance.  This has given me a very personal appreciation for the creative process and for an author's deeply felt commitment to his or her work. If you're so inclined, feel free to check out www.secondsonchronicles.com. The first two volumes were published by Black Rose Writing in 2018 and 2019, respectively. Volume 3 is coming in 2020.
Since retiring from the corporate world, I've chosen to bring my skills to a wider clientele as a freelancer through my little company, Durango Place Manuscript and Presentation Services (Editing 4 You is a trademark).
Additional Tidbits …
I have over 30 years' experience doing this stuff. In that time, I've learned a lot about both the craft of editing and the nuances of working with all kinds of people.

I love to travel. The best trips are those where I can explore back roads, small villages, historical sites, beautiful scenery, and impressive architecture.  The picture above was taken at the Corbière Lighthouse on the Island of Jersey. The one to the right is a tiny village on the edge of Dartmoor.

I'm a classically trained musician, having studied piano from the age of five, and briefly majored in piano performance during my first year of college. I've no doubt this training gives me a special feel for the rhythm, dynamics, and phrasing of the written word.

History is a passion.  It was my major in college, and I continue to read both fiction and non-fiction of many eras and places.

I speak French and Spanish and read Italian. I also have an excellent grasp of the Queen's English and how it differs from our familiar US norms.

I am a certificated private pilot (single engine airplane) with an instrument rating. And yes, I've actually flown in for the legendary "$100 hamburger," though in my case, it was actually barbecue.

The majority of my career was spent in the software industry, so I can spot and help resolve technology issues in a story.

I have two Pembroke Welsh Corgis who are great company and who make sure I take a break from being heads-down on the computer to get some fresh air and exercise.